SCHEDULE
EL HANK STAGE
9PM
AIN SEBAA STAGE
9PM
PLACE DES NATIONS UNIS STAGE
9PM
LOCATIONS
EL HANK STAGE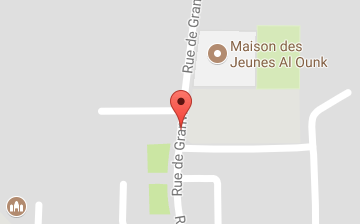 AIN SEBAA STAGE
PLACE DES NATIONS UNIS STAGE
ELECTRO PARADE CIRCUIT
ADVICE
We recommend you to stand on the scene about 1 hour before the start of each concert.
Given the expected traffic, public transport or carpooling is highly recommended.
CHILDREN
Children under the age of 15 must be accompanied by an adult.
MOVING IN
CASABLANCA
The Tramway :
www.casatramway.ma
The Tramway of Casablanca crosses the city and serves 48 stations.
Ticket price : 6 dhs.
CASATRAM PROPOSES ALSO
A rechargeable transport card: 15 dhs and the price of the first trip is 6 dhs.
Weekly or monthly subscriptions: The cards cost 15 dhs with a fixed charge of 60 dhs for the week or 230 dhs for the month.
CABS:
There are two types of taxis:
Small red taxis : allowed to travel intra-urban.
Departure amount (package) : 2,00 dhs
Minimum stroke : 7,50 dhs
Amount of meter drop : 0,20 dhs / 80 mètres
Nightly rates : 50% increase
Large white taxis : reserved for urban trips and the surrounding area. Their journeys are fixed in advance.
For the destination Casablanca-Mohammed V Airport count 250 dhs the journey.
The "Taxi Vert" service allows you to book your taxi in advance. It takes 10 additional DH the day, and 15 to 20 DH at night.
Usually count 10 minutes between your call and the arrival of the taxi if you are in the center of Casablanca.
Taxi Vert : +212.5.22.48.48.01
THE TRAINS INTRA CITY:
www.oncf.ma
The "Al Bidaoui" train service connects the different railway stations of the city and can be an alternative to traditional urban transports. From 5 am to 10 pm, "Al Bidaoui" serves the 7 stations of Casablanca (Ain Sebaâ, Casa Voyageurs, Mers Sultan, Oasis, Faculties, Ennassim and Bouskoura).
Ticket price : 10 dhs
FOR MORE INFORMATION, CONTACT US
- By e-mail: [email protected]
- By phone: +212 522 227 745 / +212 522 227 746
- By post: Residence les Pléiades-3rd floor, 105 Bd Abdelmoumen, Casablanca